The Mona Lisa's enigmatic smile has captivated the world for over 500 years and continues to influence people today. In addition to inspiring countless works of art, this iconic painting has also made a lasting impression on fashion. From clothing and accessories to makeup tutorials inspired by its ethereal quality, the Mona Lisa is a timeless statement piece that can be seen in all corners of pop culture.
Mona Lisa and fashion
The Mona Lisa is a famous painting of a woman. She is beautiful and has a mysterious smile. Therefore, people like to use her image on their clothes. For example, Jean-Paul Gaultier placed an image of the Mona Lisa on a top from the Jean Paul Gaultier Spring/Summer 1995 collection. Later, Maison Margiela fashion house also produced similar hoodies.
Lady Gaga liked Leonardo da Vinci's art so much that she wore an outfit inspired by it. Phoebe Buffay from the TV series Friends also wore a dress with a print inspired by Leonardo da Vinci's art.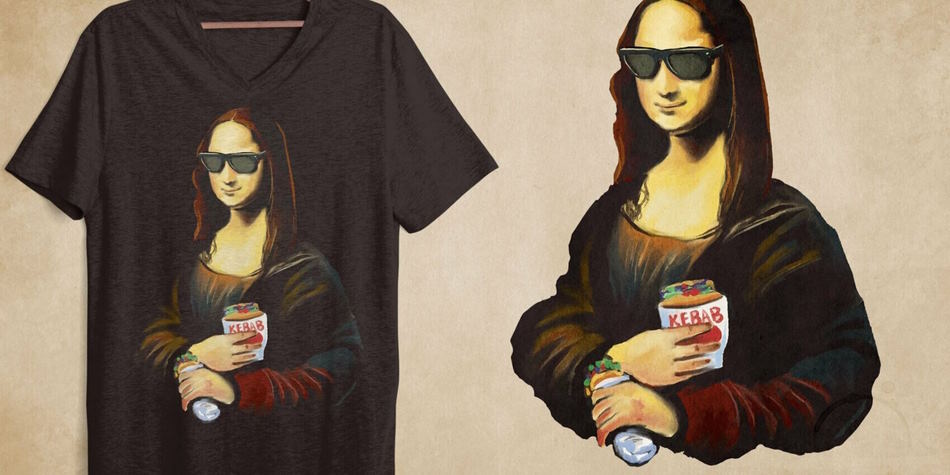 But the story did not end with just the prints. Chanel decided to use the story of the theft of the canvas in a unique way. They released an advertising campaign in 1987 that featured a model walking across the street carrying a canvas. The model wore a tweed suit, just like Chanel's famous suits. Twelve years ago, Alber Elbaz and Mario Sorrenti recreated some of the most famous paintings from history. They made new versions of "Olympia" by Edouard Manet, "Venus with a Mirror" by Diego Velazquez, and also a new version of Leonardo da Vinci's painting called "Nut Siar."
Today, brands are exploring the Mona Lisa's enduring popularity. In the Off-White Spring/Summer 2018 collection, Virgil Abloh featured hoodies, t-shirts, and iPhone cases with Lisa Gherardini graphics. In April 2017, Louis Vuitton unveiled a new line called Masters, created in collaboration with artist Jeff Koons. The collaboration between the fashion house and artist included signature bags such as Speedy, Keepall, and Neverfull, as well as scarves, purses, key chains, and laptop cases. In addition, the items were decorated with reproductions of famous paintings by Koons – "Girl with a Dog" by Jean Honore Fragonard and "Wheat Field with Cypresses" by Vincent van Gogh. Mona Lisa by da Vinci was also included.
In the spring of 2022, Mona Lisa became the Supreme x Stone Island collaboration star. The collection has ripstop jackets, parkas that can be worn two ways, sweatpants, cargo pants, hoodies, T-shirts, and bucket hats with Mona Lisa's picture on them. It also has camouflage prints and company logos.
The Mona Lisa's enigmatic beauty has captivated audiences for centuries, and her influence can be seen in modern fashion. From clothing and accessories to makeup tutorials, the image of the Mona Lisa continues to inspire creatives in all areas of pop culture. High fashion and art look to each other for inspiration. A more contemporary muse may emerge. But until then, the world is still captivated by the mystery of the Mona Lisa's enigmatic smile.